LOS05008T2 Losi 1/5 DBXL 2.0 4WD, 320 Zenoah Buggy RTR, MagnaFlow

D
Available from stock
Place your order within the next
07.02.23 14:00:00
and we will ship
today,&nbsp 07 . February 2023
Description
↑
The DBXL Platform has been a solid performer, and since its release, there have been minimal changes until now! Everything learned from the DBXL-E and DBXL-E 2.0 has directly been applied to the new and improved Losi® DBXL 2.0 4WD Gas RTR buggy. Built big and bold to deliver high-impact excitement, the DBXL 2.0 makes its presence known with a roaring new Zenoah® 32cc engine. A new high-flow air filter allows the engine to breathe to create maximum horsepower. This Losi 1/5th scale buggy powerhouse is designed to withstand the rigors of intense off-road driving with a full-time 4WD 5mm drivetrain, gearboxes, and heavy-duty construction that pulverizes the terrain at ballistic speeds. A brand-new steering rack and servo saver assembly keep your 2.0 tracking straight over any environment. A new radio tray, receiver box, and HV-rated servos take your DBXL 2.0 to the next level of performance. The DBXL 2.0 is also in for the long haul with a large-capacity tank for extended run times. The Losi DBXL 2.0 4WD Gas RTR is large-scale RC driving excitement at its most satisfying.
Features
Full 4WD drivetrain
Pull Start Zenoah® G320 32cc 2-stroke gasoline engine
Spektrum™ 3-channel SLT3 radio system
Machined ring and pinion gear
800cc gas tank
Integrated adjustable servo saver
4mm aluminum chassis
Dual disk brakes
Sealed differentials
Icon Vehicle Dynamics and Magnaflow Liveries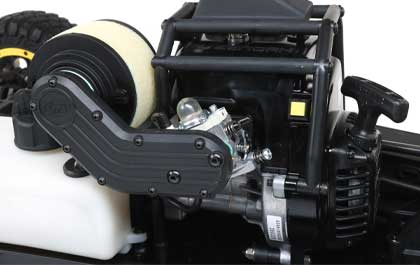 Zenoah® G320 32cc 2-stroke Gasoline Engine
New larger 32cc engine will provide the heart-pounding thrills you come to expect from a gasoline-powered engine. More displacement means more horsepower and more fun!
New Center Pinned Outdrive Cups
The center drive cups have been redesigned so that they are now a ring captured design like the 5IVE-T, reducing the chances of drivetrain failures.
5mm Drive Pins
To put the power to the ground, we have increased the size of the outdrives and drive pins in all the dogbones to 5mm. They are still replaceable but now provide you the added strength and durability for the increased horsepower.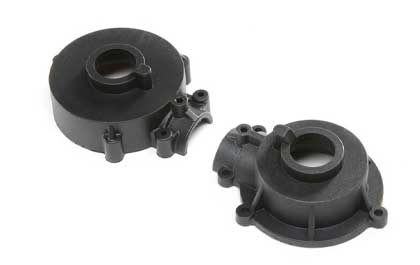 Updated Gear Boxes
Proven on the DBXL-E 2.0, the gearboxes are now secured to the bulkheads with two screws to keep them from rocking up and down when power is applied. The gearboxes also allow for a more secure closure to better keep the pinion gear in place for increased strength and durability.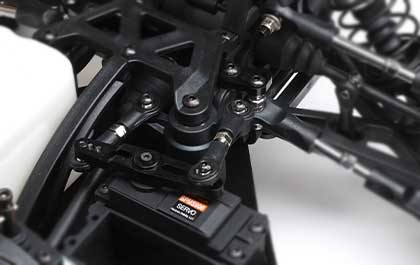 Updated Steering Rack and Servo Saver
Updated helical design adds strength while providing a much smoother servo saver action for increased servo durability.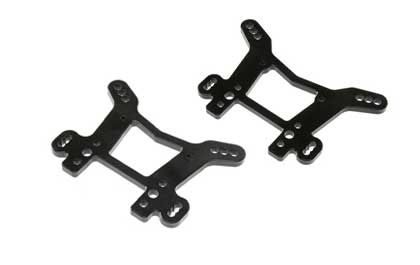 Aluminum Shock Towers
6mm thick Aluminum Front and Rear Shock Towers. Not only do these shock towers add durability/tunability to the DBXL 2.0, but they also add more tuning options to dial in your ride.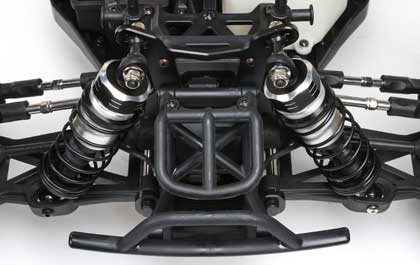 Updated Shock Bodies
Updated shock bodies with a new lower aluminum cap allow for easier maintenance when changing out the shock O-rings.
Updated Servo Tray
New servo tray allows you to run single or dual 1/5 scale steering servos as well as simplifying the throttle/brake linkage of easier tuning and adjustments.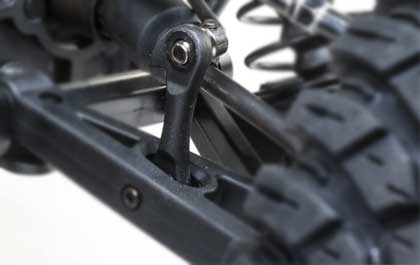 Updated Sway Bar Links
Updated, larger, stronger sway bar links for added durability.
New Chassis Braces
New dual rear chassis braces and torque rod increase chassis stiffness and durability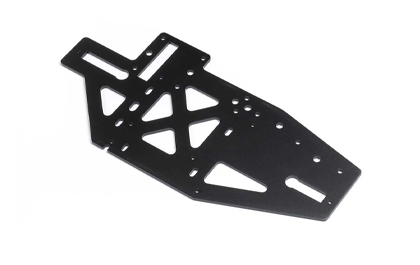 Chassis Stiffening Plate
4mm chassis stiffening plate under the engine allows for the use of engine slugs to set the gear mesh and reduce the chances of engine movement during large impacts.
New Gas Tank
New larger gas tank provides increased run time and a standard thread gas cap.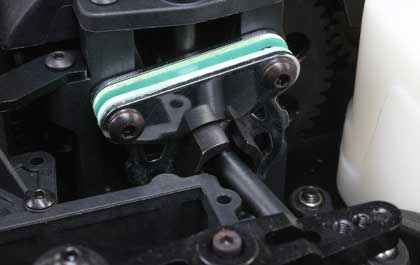 New Center Differential Mount and Brake Assembly
Conventional center differential mount allows for faster front and rear brake adjustments for improved handling.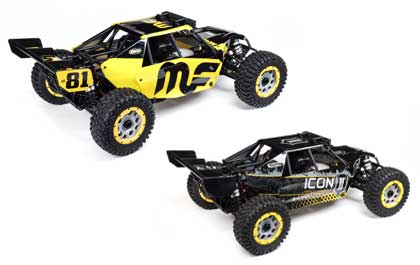 Authentic Motorsports Race Themed Liveries
Magnaflow Exhaust and Icon Vehicle Dynamics liveries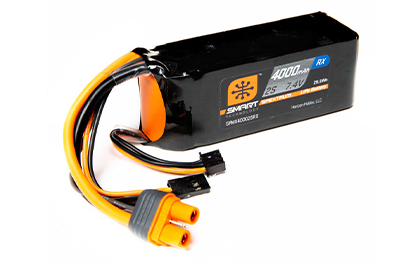 LiPo Receiver Pack
The included rechargeable 4000mAh 2S 7.4V Smart LiPo Receiver Battery allows for hours of playtime without stopping to re-charge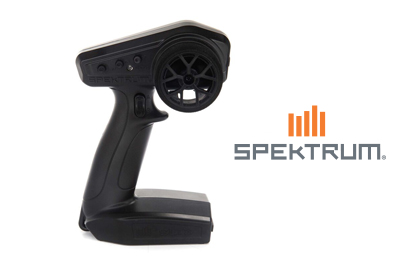 Spektrum SLT3 Transmitter with Dual Protocol Receiver
A great low-cost radio system for bashers, crawler fans, and first-time drivers, the Spektrum™ 3-channel SLT3 with SR315 receiver goes beyond basic — offering dependable SLT 2.4GHz control now, plus next-level DSMR® upgrade potential for the future.
In The Box
(1) DBXL 2.0 4WD Gas RTR
(1) Spektrum™ SLT3 Transmitter with Dual Protocol
(1) 4000mAh 2S 7.4V Smart LiPo Receiver Battery
(1) Zenoah® G320 32cc 2-stroke gasoline engine
(4) AA Batteries
(1) User Manual
(1) Miscellaneous Tools
Choices / configurator
↑
Radio
• SPMSLT300 Spektrum SLT3 3-Channel SLT Radio System with SR315 Dual Protocol
• SPMR5025 Spektrum DX5 Pro 2021 5-Kanal DSMR
• P-CB10PX Futaba T10PX 2.4GHz with R404SBS receiver
• Without radio and receiver
Engine
• Zenoah G320 Standard engine
• Zenoah G290 Engine
• SPEED TEC EXPERT 6-ports Zenoah G320
• SPEED TEC Expert 7-port Zenoah G320
• SPEED TEC CRANK Team-Edition Zenoah G320 7-port
• Selection: Without engine
Muffler
• Original Muffler
• 5187/XL2.0 Mielke Losi DBXL 2.0 tuned pipe exhaust system for 26 - 32 cm³
• 5187/XL2.0 Mielke Losi DBXL 2.0 tuned pipe exhaust system for 26 - 32 cm³
Clutch
• Original Losi standart clutch
• y1419 Sintered steel clutch
• y0733 Big Scale-EXTREME, adjustable 3 - shoe clutch
Wheels
• with standard wheels
• y1409/01 GIANT-GRIP 190x70 mm
• y1463/01 MadMax SUPER GRIP 170x60 mm (two pairs small)
• y1405/01 MadMax TARMAC BUSTER 170x60 mm (two pairs small)
• y1406/01 MadMax BIG DIGGER 170x60 mm (two pairs small)
• y1407/01 MadMax CROSS BOND 170x60 mm (two pairs small)
• y1408/01 MadMax OVER LANDER 170x60 mm (two pairs small)
• y1417/01 GPM-Ultragrip 170x80/x60 mm
• y1446/01 MadMax MAXI PIN tires
• 1614 MadMax Monster LAND G-RIPPER 211x104 mm
Car Bag
• Without Car Bag
• With Car Bag y0558
Car Stand
• Without Car Stand
• TT1030 Top Tuning CAR-STAND for 1/5, 1/6, 1/8, 1/10
more ...
Videos
↑
For this product is a 360 degree view available
↓
Customers, who bought this product, also bought the following item(s):
↑
Questions about this item
↑